This month Metamorphose Temps de Fille has released its 'Antique Dolly' dress in it's Revival Bouquet print, which is much more classical feeling than this brand usually goes, but Metamorphose likes to be all over the map so it's not surpise.
Its seems to break the traditional rules of the cupcake like silloute but still feels right at home with the style. This style is not a modern twist, nor is it necessarily taken from the dropped waist styles of the twenties. After a point in fashion history a dropped waist or an empire waist was a popular cut for childrens garments, and the dropped waist was especially popular during the periods that inspire Lolita.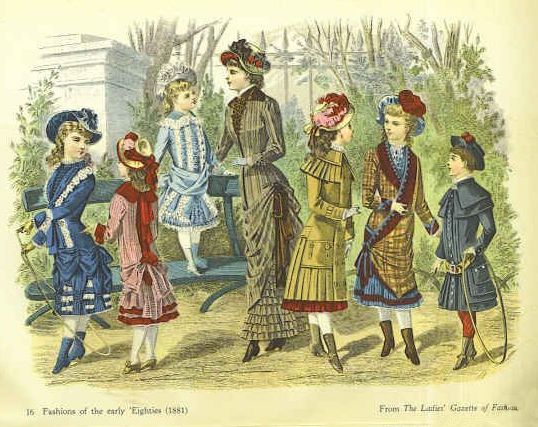 Here are some popular childres styles from the late victorian period. When the bustles for adults became popular, the long waist with pleats and gathers replaced the 'Alice' silloutte that we usually think of for children during this time. Of course the drop waist style was popular throughout the edwardian era as well.

Since it was a Popular childrens fashion, many dolls of the period were dressed in this style, which is why many brands who produce dropped waist style refer to them as 'antique' or 'doll' in some way.

Here are some low waist styles from other brands (some may no longer be available).

The style is very cute and is an interesting break from the usually cupcake style. On the more practical side they don't require as many petticoats, (some styles have them built in at the right length) and your bloomers are as easily exposed on a windy day. The downside to the style is it may be harded to find in larger sizes, particularly in hips, even for some medium sized persons.

Recommendations:

If you do get your hands on this style, I recommend carrying a doll and wearing a bonnet to complete the 'antique' look. Also consider trading a purse or bag with a smaller satchel or soft bag or tote. This style creates a leaner shape but may not be too flattering on an hourglass figure or someone with a larger bust. This style coordinates well with long tight or over the knee socks and longer bloomers as well.